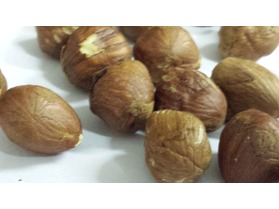 Hazelnut Kernels Raw 10kg
Hazelnut Kernels without shell
Raw Hazelnuts packed in 10 kilo cartons
Raw Hazel kernels are favourites for snacking, bakery or indeed a very popular nut for confectionery with chocolate all healthy stuff !!
A very popular eating nut for human consumption
Hazels are high in protein, iron, calcium , and zinc, which are the most important minerals for growth and development.
Hazels are also found to be rich in potassium, which is necessary for nerve stimulation and functioning of muscle tissue.
Estimated delivery -
5-7 Days
**A
Day Time
Telephone number is required on checkout
Or
Use our
Order Form
and receive a 3.5% discount on your order.
For trade orders or mixed pallet items please
contact us
for a quote.