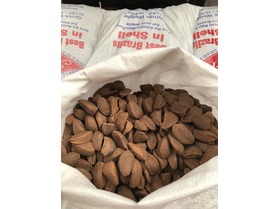 Brazils in shell - 22LB BAGS
Brazil Nuts - are back in stock second time in 20-25 years !!
Brazilnuts in shell: ONLY a few LEFT !!!!!
contact us direct > 
PLEASE SEND ORDER ON ORDER FORM TO RESERVE
OR PLACE ADVANCED ORDER IN NORMAL MANNER
WE EXPECT TO BE SOLD OUT VERY QUICKLY !! also offering 5kg bags see special offers
Brazil Nuts come from deep in the Amazon Rain forest, they grow in a POD, like an orange the skin is wooden as pictures here, or think of a Terry's orange the segments are the Brazils.
Brazils are a wonderfull nut to eat & high in selenium & a very good healthy nut. Brazil nuts are known to have the highest concentration of selenium !! more than 2,500 times than any other edible nuts, Selenium is a very powerful antioxidant, this has been proven to protect against Heart disease, & cancer like prostrate cancer.
Selenium reduces the ageing process & stimulates the immune system, Brazils are well known for the good source of fibres & minerals, like phosphorus, copper & iron.
Estimated delivery -
7 days
**A
Day Time
Telephone number is required on checkout
Delivery £5.99 + £4.99 for each additional item
Or
Use our
Order Form
and receive a 3.5% discount on your order.
For trade orders or mixed pallet items please
contact us
for a quote.