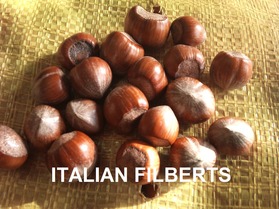 Italian/Usa Filberts 25kg
Italian Filberts in Shell - 25 kilo bags
Filberts in Shell VERY SHORT SUPPLIES

Italian are slightly smaller & Natural or Polished
A very popular eating nut for human consumption
Filberts are high in protein, iron, calcium , and zinc, which are the most important minerals for growth and development.
Filberts are also found to be rich in potassium, which is necessary for nerve stimulation and functioning of muscle tissue.
Also great for parrots, macaws and red squirrels.
Parrots and macaws will enjoy the challenge of
extracting the nut from the shell.
https://www.afnuts.com/gallery/squirrels-love-hazels-filberts-in-shell.htm
Estimated delivery -
7 working days - or earlier where possible
**A
Day Time
Telephone number is required on checkout
Or
Use our
Order Form
and receive a 3.5% discount on your order.
For trade orders or mixed pallet items please
contact us
for a quote.